[ad_1]

There are a hundred reasons why nuclear energy can play a massive role in the future of American power and prosperity.
It creates high-paying jobs better than any other energy source. Its fuel sources are abundant. It fuels NASA's most innovative projects. It offers a solution to conservation concerns without devastating the economy. And despite its sensationalist image, it is far safer than fossil fuels, and about the same in safety as solar and wind.
"Nuclear provides 55% of our country's clean energy, and about 20% of our power, and it's one of the most reliable generators that we have on the grid today," says Dr. Rita Baranwal, who this month completed her tenure as assistant secretary for the Office of Nuclear Energy in the Trump administration. "Our reactors in the U.S. avoid putting out 470 million metric tons of carbon emissions each year. That number is equivalent to removing 100 million cars off the road."
But the field has been in a hard spot for decades. With high degrees of government regulation and small amounts of government investment, reactors have been shut down across the country, destroying jobs and energy.
The last four years, however, have seen early signs of what might just be a fission renaissance. After being slashed by President Obama in favor of more image-friendly and less efficient sources, the Trump administration has ramped up American investment in nuclear energy.
"When the president took office in 2017, he ordered a review of nuclear energy policy, and he said that he wanted to begin to revive and expand our nuclear energy sector," Baranwal told The Federalist. "And so he issued an executive order, promoting energy independence and economic growth, and that included the recognition that nuclear energy is a clean baseload power source that's very important to overcoming our environmental challenges."
These changes, and the increases in funding that have come with them, have resulted in groundbreaking accomplishments in American nuclear energy that have hardly received the coverage they deserve.
The Federalist spoke with the recent assistant secretary about the frontline of these changes and how they can shape the future of American power. While there are far too many new policies to entirely capture in one article, what follows are three major concrete improvements — and why they're so important.
Revolutionary Small Reactors Are On Their Way
Miniaturized fission plants are smaller, safer, cheaper, and now far closer to being a reality.
This September the design for a Small Modular Reactor (SMR), designed by NuScale Power, gained approval from the federal government. It's the first such reactor to be approved, ever. Small reactors like NuScale's offer the possibility of fundamentally changing the economics of nuclear power.
While fission plants pay off in the long run, they have immense upfront costs that other energy sources just don't experience on the same scale. Today, starting a commercial fission plant is something of an Odyssean task requiring decades of paperwork, miles of land, and billions in investment. These smaller reactors could change all of that.
"They can be factory-built and assembled on site much faster than these larger gigawatt-scale reactors. And so part of what we have seen with the cost overrun and the schedule delays… will not be experienced with SMR or microreactor deployment," Baranwal said.
The mass-produced nature of these small reactors creates a wallet of benefits. The plants can be built far more cheaply while retaining the same safety guardrails of a larger plant. Once installed, each 100-megawatt plant would cost around $500 million to construct but generate $1.3 billion in sales and create 7,000 permanent jobs, according to a study on the design.
After providing $400 million in funding for NuScale's sea-changing project, according to Baranwal the first-ever such plants will receive final approval for construction this year.
After Decades of Stagnation, New Reactors
In addition to creating new sizes of plants, the last four years have seen huge strides in developing the next generation of reactors.
After three decades passing without the construction of a single new large commercial reactor in the entire country, two brand new ones — part of Vogtle Electric Generating Plant in Georgia — are now nearly complete. They'll pave the way for more next-generation plants across the country, Baranwal says.
"The completion of Vogtle Units Three and Four in Georgia, which had been supported by the DOE, are using AP1000 technology, which is the most advanced light water reactor system that has been licensed by the NRC," she said. "Those units are the first new large-scale reactors to be built in the United States in more than three decades and they're scheduled to come online in the next two years — a very, very exciting time."
Additionally, the administration has approved and funded designs in even newer tech via the Advanced Reactor Demonstration Program.
"(The program) focuses DOE and nonfederal resources on constructing advanced demonstration reactors that are affordable to build and to operate," Baranwal explained. "So in October of 2020, we awarded the first tier of awards and that was $160. million in initial funding to Terrapower and X Energy as private-public partnerships. The intent is to build two advanced nuclear reactors that can be operational in the next five to seven years. That's the top tier."
The public-private partnerships, when complete, will mark some of the most advanced fission technology ever built.
Investing in the Distant Future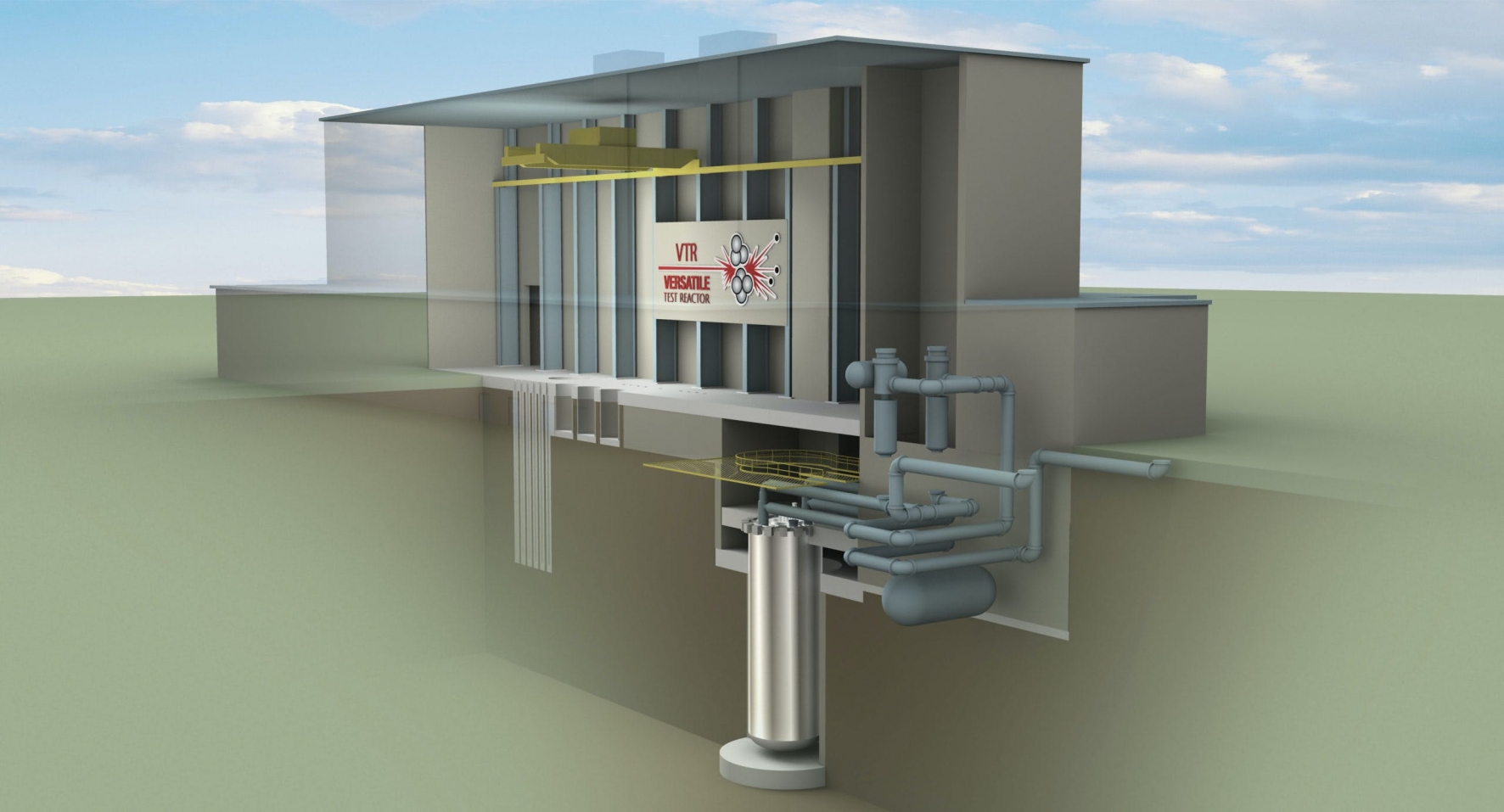 Investment hasn't only focused on near-term wins, like the first-ever approved Small Modular Reactor and the first new reactors built in 30 years. The DOE has funneled funding to a set of long-term projects aimed at furthering fission energy science for decades to come. These changes can speed up not only the innovations noted above, but more futuristic aims as well.
Perhaps most important of these is the Versatile Test Reactor (VTR), the scientific project called by Energy Secretary Dan Brouillette "key to revitalizing the nuclear industry." The facility, which began development in 2019, is an achievement Baranwal is particularly proud of.
"It'll be a one-of-a-kind sized user facility, and it is, it's going to be vital to our U.S. nuclear industry in that it's going to ensure that we have the infrastructure that's necessary to support long term development of advanced nuclear technology," she said.
The facility will allow American companies to test their most advanced tech without surrendering their designs to Russia or China, both of whom currently possess advanced similar test reactors.
Nuclear energy in America certainly still isn't at its peak. But the groundswell of new research and development offers a hopeful sign for an energy source, which more and more Americans are seeing as an important part of the country's future.
"I think we have laid some really good groundwork, and those projects need to continue for the next four years," said Baranwal. "And we will start to see the benefits of these programs that we have launched over the past year and a half, past two years, very soon."
Jonah Gottschalk is an intern at the Federalist. He studies Modern History and International Relations at the University of St Andrews.


[ad_2]

Convicted fundraiser who tried to work his way into Biden's inner circle sentenced to prison
Amajor Democratic bundler, who raised large sums for Barack Obama and Hillary Clinton and consorted with Joe Biden, was sentenced to 12 years in prison for what prosecutors said was a "mercenary" political influence scheme.
Imaad Zuberi, a Californian businessman was sentenced Thursday for schemes to funnel foreign money into U.S. political campaigns, then take millions of dollars for himself.
The Los Angeles Times reported that U.S. Assistant Attorney Daniel J. O'Brien said Zuberi was "purely a mercenary, funneling money to whomever he believed would do his bidding."
Among the many unsealed court records, Zuberi was seen photographed with Joe Biden and Barack Obama when they were Vice President and President. He was also pictured with former President Bill Clinton and former presidential nominee, Hillary Clinton. He took pictures with former Republican Rep. Paul Ryan when he was speaker of the House as well as the late Sen. John McCain of Arizona.
Also included in the Times report was a hacked email chain released on WikiLeaks. Hillary Clinton's campaign manager Robby Mook messaged colleagues saying, "I'm OK taking the money and dealing with any attacks." Jennifer Palmieri responded saying, "Take the money!"
He also attended Hillary Clinton's election night party in New York City in 2016 as well as serving as a co-chair of The Trump Presidential Inauguration Committee.
Zuberi made more than $950,000 in unlawful donations to the political committees of Obama, Clinton, McCain and others. Zuberi's activities extended as far as a recent attempt to work his way into the Biden circle, according to Politico.
In addition to the money he made, Zuberi also raised $270,000 for Hillary Clinton and $1.3 million for President Obama.
Zuberi, 50, pleaded guilty to a "three-count information charging with violating the Foreign Agents Registration Act (FARA)" for making false statements on a FARA filing as well as tax evasion and illegal contributions to political campaigns. He also pleaded guilty in a separate case earlier in June 2020 to a count of obstruction of justice.
"Zuberi turned acting as an unregistered foreign agent into a business enterprise," Assistant Attorney General for National Secretary John C. Demers said in a Department of Justice news release.
Cruz responds to pictures of him on Mexico flight, with Texas struggling from deadly winter storm
Texas GOP Sen. Ted Cruz confirmed Thursday that he flew earlier this week to Mexico with family members, following the emergence of pictures appearing to show him in an airplane cabin and at a check-in counter, as fellow residents to recover from a deadly winter storm.
Cruz said in a statement that he accompanied his daughters on a flight Wednesday night to Mexico because they had the week off with school canceled.
"Wanting to be a good dad," said Cruz, who also stated he is returning to Texas on Thursday afternoon.
The storms has been connected to at least seven deaths in Texas and knocked out power to as many as 2.5 million residents. The number of residents without electricity as of Thursday morning was down to less than 1 million, officials said.
"My staff and I are in constant communication with state and local leaders to get to the bottom of what happened in Texas," Cruz also said. "We want our power back, our water on, and our homes warm."
South Carolina House passes bill that would prohibit most abortions if a fetal heartbeat is detected
The South Carolina House of Representatives on Wednesday voted 79-35 to pass legislation that would prohibit most abortions.
The bill must pass through a procedural vote in the House on Thursday prior to heading to GOP Gov. Henry McMaster who has indicated that he will sign it, according to the Associated Press. Two Republicans voted against the legislation while two Democrats voted for it. The state Senate passed the measure last month.
The bill requires doctors to carry out an ultrasound to check for a fetal heartbeat and if a heartbeat is identified an abortion can only be performed in certain circumstances.
The legislation would not penalize a woman for obtaining an unlawful abortion, though the individual responsible for performing the abortion could face consequences.
The outlet reported that other states have approved similar or even more stringent abortion prohibitions which could be implemented if the Supreme Court throws out the landmark 1973 Roe v. Wade decision. All of the other states' abortion bans are currently entangled by court challenges and if the South Carolina bill is approved it will likely face litigation that prevents it from going into effect, according to the AP.