SEE PICS: Aide slips note to Biden during meeting, 'Something on your chin'
President Biden on Friday was photographed reading a hand-written note from an aide telling him there is "something" on his chin.
"Sir, there is something on your chin," the note, as seen in photos taken by an Associated Press photographer, reads.
The photos were taken while the president met with governors in the Eisenhower Building to discuss ongoing efforts to strengthen wildfire prevention, preparedness and response efforts, and hear firsthand about the ongoing impacts of the 2021 wildfire season.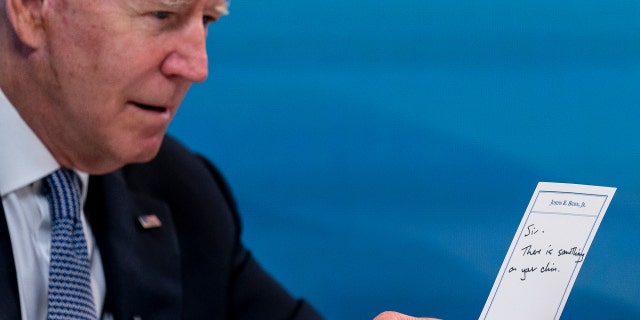 The images were captured Andrew Harnik, and they sparked jokes on social media. 
Another AP photo published Friday from the same event appears to show a small, orange object on the president's chin.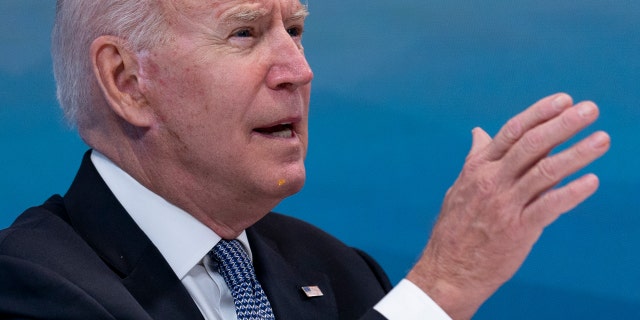 AP reported at the time that an aide handed Biden the note.
Pelosi says Dems' massive spending bill should include immigration reform
Sen. Lindsey Graham, R-S.C., says he would 'use everything lawfully in my toolbox to prevent rampant inflation.'
House Speaker Nancy Pelosi said Friday that a sweeping, multitrillion-dollar spending bill that Democrats are aiming to pass without any Republican support should also tackle immigration reform.
"I do believe that immigration should be in the reconciliation, some piece of that, in the reconciliation," Pelosi told reporters on Friday during a press conference with House Democratic leadership. "We know we have a very good case for this to be included."
Democrats are pushing to include a pathway to citizenship for so-called Dreamer immigrants who were brought to the U.S. as children and are protected from deportation under the Deferred Action for Childhood Arrivals (DACA) program, as well as Temporary Protected Status (TPS) holders, essential workers and farmworkers. 
The provisions would be part of a roughly $3.5 trillion bill that Democrats are still in the process of negotiating. While details of the legislation are still unclear, it's widely expected to invest billions in an array of planned health, education, environment and social programs as Democrats seek to use the procedural tool known as budget reconciliation to bypass a 60-vote filibuster by Republicans in the Senate.
The measure would be paid for by higher taxes on wealthy Americans and corporations.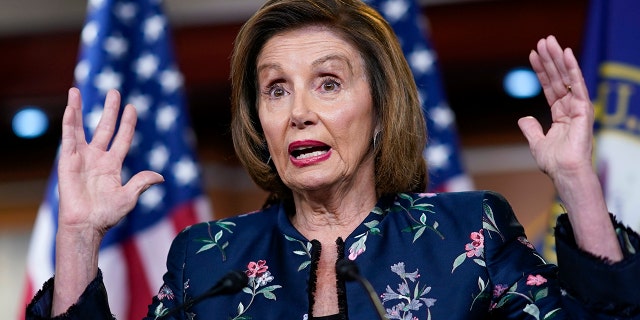 Pelosi's comments on Friday followed a meeting between President Biden, Vice President Harris and Democratic lawmakers this week over the next steps for providing a pathway to citizenship for millions of undocumented immigrants living in the country.
Immigration reform has become a crucial part of reconciliation talks, with several Democrats threatening to withhold support for the spending bill unless it includes citizenship provisions.
Sen. Dick Durbin, the second-ranked Democrat in the Senate, said after the Thursday meeting that Biden made it "unequivocally clear" that "he's with us" and supports including an immigration proposal in the bigger budget bill.
"It went very well," Biden said of the meeting.
Still, it's unclear whether the Senate parliamentarian, a nonpartisan referee who determines which provisions may be included in a reconciliation package, would support the inclusion of immigration reform.
Provisions are subject to the so-called "Byrd rule," which prevents "extraneous" provisions from being included in reconciliation so that only items affecting the federal budget can be included.
Pro-Trump groups raise $5.7 million for Arizona election audit efforts
The groups are being led by individuals including Michael Flynn, Sidney Powell, and OANN correspondents
Groups connected to supporters of former President Trump have raised over $5.7 million for the 2020 presidential election audit in Arizona's Maricopa County, according to the firm conducting the audit.
Doug Logan, CEO of Cyber Ninjas, the Florida-based firm hired by the GOP-led by the Arizona state Senate to lead the audit, late Wednesday announced the backers of the effort.

The state Senate Republicans who commissioned the audit contributed $150,000, according to the Associated Press.
Leading the donor pool is The America Project, a group led by Patrick Byrne, a former CEO of Overstock.com. The group has so far contributed $3.25 million.
Former White House national security adviser Michael Flynn is listed as the chairman of America's Future, a group that has contributed nearly $1 million to the audit effort.
One America News Network correspondents Christina Bobb and Chanel Rion are leading Voices and Votes, a group that has contributed $605,000, and former Trump attorney Sidney Powell is spearheading Defending the Republic, which gave $550,000.
Election Integrity Funds for the American Republic, which is being led by attorney Matthew DePerno, has given $280,000.
Logan says that in addition to funds, some of the groups have provided operational support and "advice pivotal in executing the audit."
The fundraising disclosure arrived alongside an announcement from the audit team this week that it has completed its third count of the roughly 2.1 million Maricopa County ballots and will now transfer collected data to audit labs for analysis.