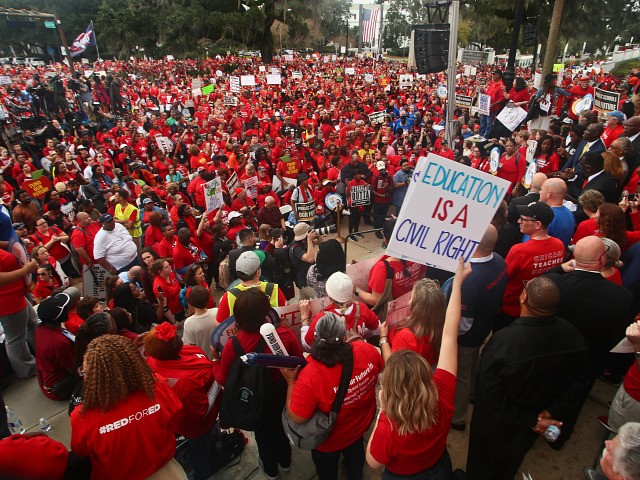 More than 5,000 teachers have signed onto a pledge at the Zinn Education Project that states they vow to teach their students the concepts of Critical Race Theory (CRT), even where it is banned by law.
Far-Left teachers unions are prepared to ram Critical Race Theory propaganda into the minds of students while targeting those who oppose it. https://t.co/SaUv9YFed7
Making the claim that bans on teaching students America is a racist, sexist, oppressive country mean they will be taught "lies" instead, the Zinn Education Project's pledge states:
Lawmakers in at least 26 states are attempting to pass legislation that would require teachers to lie to students about the role of racism, sexism, heterosexism, and oppression throughout U.S. history.
The project claims the laws "aim to prohibit teachers from teaching the truth about this country: It was founded on dispossession of Native Americans, slavery, structural racism and oppression; and structural racism is a defining characteristic of our society today."
A black Illinois father whose rant against Critical Race Theory at a local school board meeting last week went viral is not backing down. He, instead, is laughing at attempts by the left to discredit him. https://t.co/wHZMhm6nlH
"[H]ow can one teach honestly about the nature of our society without examining how today's racial inequality is a systemic legacy of this country's history?" the Zinn Education Project asks, and continues:
From police violence, to the prison system, to the wealth gap, to maternal mortality rates, to housing, to education and beyond, the major institutions and systems of our country are deeply infected with anti-Blackness and its intersection with other forms of oppression. To not acknowledge this and help students understand the roots of U.S. racism is to deceive them — not educate them. This history helps students understand the roots of inequality today and gives them the tools to shape a just future. It is not just a history of oppression, but also a history of how people have organized and created coalitions across race, class, and gender.
"We, the undersigned educators, refuse to lie to young people about U.S. history and current events — regardless of the law," the project urges teachers to write to their state legislators.
The project says it hopes to achieve its goal of 6,400 signatures.
Former HUD Secretary Dr. Ben Carson on Sunday blasted Critical Race Theory, calling it a "bunch of garbage." https://t.co/XsQitt9tSc
The Zinn Education Project is a campaign inspired by radical leftist Howard Zinn, author of A People's History of the United States.
The project aims to indoctrinate America's students in identity politics and the organization of social justice movements, including the teaching of Critical Race Theory, a Marxist cultural ideology that embraces the concept that all social issues should be viewed through the lens of race and that claims white people are oppressors while black individuals are victims.
During its virtual representative assembly that convened at the end of last week, the National Education Association (NEA), the nation's largest teachers' union, resolved to promote the teaching of CRT in K-12 schools and to oppose any bans on its instruction, as well as on the teaching of the widely discredited New York Times' "1619 Project."
NEA also announced it plans to join with Black Lives Matter at School
and the Zinn Education Project "to call for a rally this year on October 14 – George Floyd's birthday – as a national day of action to teach lessons about structural racism and oppression."
Former Sec of State Mike Pompeo on Left's attempt to push radical '1619 Project' and Critical Race Theory propaganda: "…they're attacking the central understandings that we have shared together for 245 years, and it's an attempt to divide the country." https://t.co/Jb4VD38MwT

— Breitbart News (@BreitbartNews) July 5, 2021
The union added:
The Association will further convey that in teaching these topics, it is reasonable and appropriate for curriculum to be informed by academic frameworks for understanding and interpreting the impact of the past on current society, including critical race theory.
#CriticalRaceTheory is not taught in K-12 schools. The right's culture warriors are labeling any discussion of race, racism or discrimination as such to try to make it toxic. They're bullying teachers to try and keep them from teaching the truth.  https://t.co/Plz2inkLke
The nation's other large teachers' union, the American Federation of Teachers (AFT), has denied CRT is being taught in K-12 schools, but invited activist academic Ibram X. Kendi to speak at its TEACH professional development conference this week.
It needs to be said again.https://t.co/7zDxprrkVa

— Ibram X. Kendi (@DrIbram) April 16, 2021
The Biden education department referenced Kendi in April when it proposed a rule to establish priorities for grants in American History and Civics Education programs that incorporate Critical Race Theory- based curricula, such as the "1619 Project."
"As the scholar Ibram X. Kendi has expressed, "[a]n antiracist idea is any idea that suggests the racial groups are equals in all their apparent differences—that there is nothing right or wrong with any racial group," the Biden education department
During his discussion with members of AFT, Kendi said, "[T]o be antiracist, is to admit the times which we're being racist. To be racist, is to constantly consistently, deny, deny, deny, like Donald Trump."
Victor Davis Hanson: Critical race theory capitalists, rich CEOs and more — what is US wokeness really about?
Most Americans were as indifferent to the U.S. women's soccer team's recent loss to Sweden in the Olympics as they were excited about the team's World Cup win in 2019. 
In between was the team's nonstop politicking, from whining about compensation to virtue-signaling their disrespect for the United States. The celebrity face of the team, perennial scold Megan Rapinoe, is going the way of teenage grouch Greta Thunberg, becoming more pinched the more she is tuned out.
Black Lives Matter co-founder Patrisse Marie Khan-Cullors Brignac used her corporate grifting to buy four homes. The one she bought in California's Topanga Canyon is surrounded by a new $35,000 security fence. 
Critical race theory guru Ibram X. Kendi offers virtual, one-hour workshops for $20,000 a pop. He is franchising woke re-education kits — in between bouts of damning capitalism as a catalyst of racism. 
The woke movement is a slicker, more sophisticated and far more grandiose version of Al Sharpton and Jesse Jackson's shakedowns of the 1990s. Those, at least, were far more honest in leveraging cash with charges of racism — and came without the academic gobbledygook of critical race theory. 
Our freeways are jammed. Airports are crammed. Labor is short. Huge pent-up consumer demand for essentials and entertainment outpaces supply. Yet Major League Baseball's recent All-Star Game saw record low television viewership — about a quarter of the audience of 40 years ago, when there were 100 million fewer Americans.
The Summer Olympic Games are getting anemic TV ratings. The NBA's crashing TV ratings have followed the downward trajectory of the NFL's ratings. Woke sports earn the same public disgust as the accusatory and boring Emmy, Grammy, Oscar and Tony awards. 
Cable news networks CNN and MSNBC fueled the story that former President Donald Trump allegedly colluded with Russia. They contextualized (to excuse) the summer looting and rioting of 2020. And they cheered on two impeachments as a prelude to their 24/7 woke drumbeat. Their ratings, too, have now dived.
Never has TV been more politicized. Sitcoms, dramas and commercials are designed more to resonate woke messaging than to entertain. So naturally, dismal TV ratings reflect the expected public boredom that ensues when art serves politics. 
How many times will disingenuous Dr. Anthony Fauci swear that he never sent federal money to the Wuhan virology lab for gain-of-function research, or blame his critics for pointing out his gyrating advice on masks, or offer yet another noble lie on herd immunity? 
In short, Americans are worn out from elite virtue-signaling and woke performance art from critical race theory capitalists, multimillionaire CEOs, revolving-door Pentagon brass, Malibu celebrities and credentialed elite.
The problem is not just that most of America is exhausted from being smeared as racists, or hearing that a wonderful country — the most free, just, equitable, affluent and leisured in civilization's history —  must continually pay penance for its past and present. The public is more tired of projectionist hypocrisy. Those who scream the loudest are usually the most guilty of woke crimes. 
The woke madness coincides with an epidemic of crises that go largely ignored as a distracted America cannibalizes itself.
The border is being breached at a time of pandemic. Migrants barge in without either COVID-19 testing or vaccinations — during a coronavirus spike that has government officials talking about going door to door to roust out American citizens to get vaccinated. 
Whiteness is supposedly the cause of America's problems. But our inner cities are suffering historic levels of violent crime. Couldn't our critical race theory accusers take time out from their merchandising to address the soaring violence?
The Biden administration denies that huge deficit spending and generous cash payments to workers fueled inflation. But America hasn't seen anything like the current price hikes and labor shortages in the last 40 years.
The military, CIA and FBI have lost the confidence of the public — and not just because of their woke politicking. They are perceived as distracted and ignoring their primary missions of winning wars, catching terrorists before they strike, and offering superb intelligence about our enemies.
Wokeness is many things. But increasingly it seems a cover for careerism, profiteering and utter incompetence.
Sorce : Fox News
Donald Trump: 'Wokeism Makes You Lose' and 'Ruins Your Mind'
President Donald Trump criticized the left's growing attempt to infect American institutions with "woke politics" in a speech on Saturday.
"Woke politics takes the life and joy out of everything," Trump said. "Wokeism makes you lose, ruins your mind, and ruins you as a person. You become warped. You become
Trump spoke about the left during a speech at the Turning Point USA Student Action Summit in Phoenix, Arizona.
The former president cited the U.S. Women's Soccer team as an example, as most of the players took a knee to protest the national anthem at the Olympics before unexpectedly losing to Sweden in a 3-0 game.
FLASHBACK: U.S. Women's National Soccer team co-captain Megan Rapinoe refused to sing the national anthem during Tuesday's World Cup game in France. https://t.co/nLuayPX1Vz
Trump also lamented that woke politics had infected baseball, one of America's great national pastimes.
"First, we saw the embarrassing spectacle of the commissioner of baseball, bowing to the radical left on voter fraud," he said recalling the decision to move the all-star game from Atlanta, Georgia in protest of Republican election security laws.
Trump also criticized the Cleveland Indians for announcing their decision to change their name to the Cleveland "Guardians."
"The insanity of the left knows no bounds. And both Indians and baseball fans should be greatly insulted," Trump said.
He warned the left was working to systematically destroy American culture and heritage and the time had come to stand up to socialism.
"We are at the beginning of a communist system. Radicals are seizing power and destroying everything we hold dear as Americans and it's happening," he said, adding the left "dismantle the rule of law, censor speech, take over the free press, imprison political opponents."
The radical left, Trump warned, was also working to infect all of America's institutions with "Marxist" ideas like critical race theory.
"We are seeing almost every major institution in American life be taken over and weaponized by the extreme left, including law enforcement, the military, the corporate media," he said.
He ridiculed Chairman of the Joint Chiefs of Staff, Mark Milley as a "lightweight" for defending critical race theory.
"Our generals should not be focused on learning left-wing ideology," he said. "They should be focused on defeating America's enemies and winning our future wars."
Before the Woke Cancel Culture mob took over the Left, freedom of speech used to be something all Americans agreed upon. https://t.co/arsQhJn95g
The former president reemphasized the Republican party's commitment to restore patriotic education to the United States and protecting Judeo-Christian values and the Constitution.
"We embrace free thought. We stand up to political correctness. We don't like political correctness," he said. "And we reject the intolerance of left-wing cancel culture."
Candace Owens: The Biden administration got caught red-handed
The Biden administration blamed an "error" Wednesday after promoting a radical activist group's handbook that pushes critical race theory in schools and calls on educators to "disrupt Whiteness." Conservative commentator Candace Owens responds on "The Ingraham Angle" on Wednesday.
CANDACE OWENS: "Absolutely have not seen all. There will be more to come I can promise you that, Laura. Listen the Biden administration got caught red-handed and I want to be very clear about what their intentions are because we all know that Joseph Biden does not care about. His record when he was a senator tells us everything we need to know about him and his opinion of Black people. And his true opinion of Black Americans is that we are the dumbest part of the population. He believes that Black Americans are the easy pawns. This administration believes that if they keep stoking racial tensions, they can turn Black Americans into their permanent soldiers for their policies. And what they're really trying to do is replace hard academics. I'm talking about engineering, mathematics, all that stuff is now a form of white supremacy. They don't want kids to get the right answer. They want them to focus on, you said it Laura, emotional learning. Right? Because emotional learning is not rational learning. People that learn emotionally don't tend to go off and become successful individuals. Rather people who learn emotionally tend to become angry, radical and Antifa-throwing BLM-burning individuals and those people are very easily targeted by the government and that's what the Biden administration wants."
WATCH THE FULL VIDEO BELOW