Rep. David Price, D-NC, suggests Biden doesn't have control over when infrastructure projects will roll out.
[VIDEO] 'I Will Not Let This Go Without One Hell Of A Fight': Graham Calls On Biden For New Border Strategy
In a press briefing today with Rep. Henry Cuellar (D-TX), Sen. Lindsey Graham (R-SC) called on President Biden to appoint former Homeland Security Sec. Jeh Johnson "border czar," and pledged to continue to advocate for stemming the flow of illegal border crossings.
SEE PICS: Aide slips note to Biden during meeting, 'Something on your chin'
President Biden on Friday was photographed reading a hand-written note from an aide telling him there is "something" on his chin.
"Sir, there is something on your chin," the note, as seen in photos taken by an Associated Press photographer, reads.
The photos were taken while the president met with governors in the Eisenhower Building to discuss ongoing efforts to strengthen wildfire prevention, preparedness and response efforts, and hear firsthand about the ongoing impacts of the 2021 wildfire season.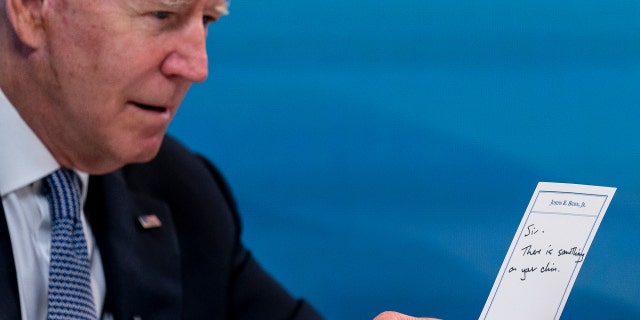 The images were captured Andrew Harnik, and they sparked jokes on social media. 
Another AP photo published Friday from the same event appears to show a small, orange object on the president's chin.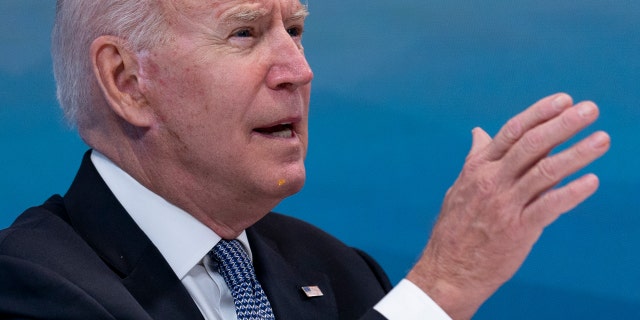 AP reported at the time that an aide handed Biden the note.
[VIDEO] Tucker reacts to Biden's latest 'insane' claim
Mark Steyn and 'Tucker Carlson Tonight' host mock the president for claiming he drove an 18-wheeler and recount his other unbelievable tales.